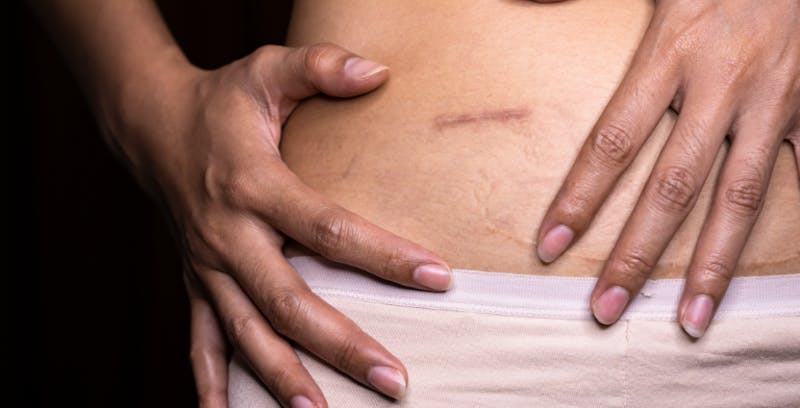 An abdominoplasty, or tummy tuck, is one of the most common plastic surgery procedures, but it is often considered by many to be one of the most invasive. By nature of the procedure, the incision is large and often extends hip-to-hip, which can sometimes leave an unsightly scar. While this scar is easy to hide due to its strategic placement in the bikini line, for some, this can be a deterrent for having a tummy tuck at all.
Scars come from healed wounds; some can heal to be much less noticeable. Scar formation depends on how you treat your body before and after getting a tummy tuck. The procedure of cutting away excess skin will leave a scar on everyone, but the visibility and overall appearance can be minimized.
If you have already had a tummy tuck and your body has healed with an unsightly scar, there are also measures you can take to help improve its appearance.
Types of Tummy Tucks
All tummy tucks will leave scarring, but the overall appearance may change depending on the kind of procedure. You may have already decided what type of procedure you want, or you're reading this post-procedure. Either way, knowing what type of scar you have or will have can help you prepare for both preoperative and postoperative scar care.
Mini
As the name suggests, a mini tummy tuck is a smaller procedure. It's less invasive for people who don't have as much excess skin and fat to remove. It will leave a smaller scar, usually ranging from 3 to 6 inches across, similar to a C-section scar in length.
Full
A full tummy tuck will leave a much larger scar than a mini tummy tuck. This scar will generally run from hip bone to hip bone, across your abdomen just above the pubic area. Depending on how the procedure is done, you may also end up with a scar around your belly button.
Fleur-De-Lis
A fleur-de-lis tummy tuck is more invasive and creates two scars. This procedure is done for people with a significant amount of excess skin needing removal. It may be recommended for individuals who have undergone extreme weight loss or several pregnancies. It will leave the expected abdominal scar below the belly button, along with a scar running down the chest from the breastbone to the pubic bone (a large inverted "T").
Your scar's long-term appearance can depend on your procedure and your surgeon. You can get additional tips and tools from your doctor, so if you're concerned about a scar, ask during your initial consultation.
Tummy Tuck Scar Causes
A scar develops when the body heals a wound, producing collagen. This collagen is created at the site of the wound to help it heal and make that spot stronger. This can cause a raised and inflamed look where the wound healed. Scars signify that the body has healed and is working to protect from another injury in that spot.
However, not everyone wants scars on their body. Some scars from a tummy tuck can appear red and slightly raised. More often, the scars from abdominoplasty are thin and able to be hidden easily under clothes. But if you're determined to improve the appearance of your scar, there are a few things you can do.
Remember that you will get a scar from a tummy tuck, even if you follow all the steps perfectly. It will likely be less noticeable, but a scar from surgery is normal and should be expected. Try to temper your expectations when working to minimize the look of your scar.
How to Minimize Tummy Tuck Scar
Before listing endless tips, you should know you're already taking an important step toward minimizing scarring. Learning about what causes a scar and how to prepare will allow you to be ready and prepare your body as well.
Initial Prevention Tips
While a scar due to a tummy tuck is inevitable, you can take some steps before your procedure to help mitigate a more prominent and unsightly scar. For instance, if you deal with a chronic disease that impacts wound healing, like diabetes, you want to ensure you have that under control. You can work with your doctor on how to handle your preexisting disease and your recovery process.
Like with most plastic surgery procedures, quitting smoking is mandatory. Aside from the myriad negative effects known from smoking tobacco, nicotine negatively affects wound healing. If you do have any wound healing complications from smoking, your scarring will certainly be worse as well.
If you take certain medications, you may need to speak with your doctor about switching them up following the procedure for a period of time. Some medications, like corticosteroids, can slow down wound healing, making it more likely your scar will be noticeable. The more efficiently your wound can heal, the less noticeable your scar. However, you don't want to stop taking medications critical to your health, so consult with your doctor before you stop or hold any of your medications.
Another tip to take before you have your tummy tuck is to start taking vitamin A. You can do this month in advance if you're planning that far ahead. Vitamin A helps boost your body's ability to heal wounds and will help with your scar after the procedure. But if you want to add this supplement to your diet, be sure to talk to your doctor about any other complications with medications, especially around the procedure.
Good Health, Good Results
You want to go into your procedure in good health. That way, you can maximize your body's ability to recover. If you have time before your surgery, try to be in good shape and maintain a good diet. The healthier you are before your surgery, the better. This includes cutting out toxic habits like smoking and excessive drinking.
Many people will only utilize the post-procedure steps, but what you do before surgery is equally important. You want to set yourself up for success, so try to plan ahead and take care of yourself even before your healing process begins.
Post-Procedure Steps
Taking the proper steps after your procedure can make a big difference in how your body heals. A tummy tuck leaves a large wound to heal, so follow your doctor's advice and use the tools they provide to help you heal right.
You should avoid any strenuous activities for at least a few weeks and make sure you are keeping your wound clean. Preventing infection is not only a step toward recovery but also a step toward preventing further scarring.
Topical Treatments
There are a lot of options you can apply to your wound that can help the healing process. Before using any, be sure to ask your doctor which works best and is recommended most. You might be advised to use cocoa butter, scar cream, vitamin D, vitamin E, petroleum jelly, antibiotic ointment, or silicone gel sheets.
Stay Out of Sunshine
Avoiding sunlight is crucial for your wound to heal well. You can still go out but keep the wound and eventual scar covered. And even months after, when you feel fully healed, you should still use sunscreen on the area to prevent any possible damage from UV rays. UV will darken the appearance of your scar, making it more visible.
Massages
After around 2 to 3 weeks, you can try to massage the area of your scar. This can help increase blood flow and promote further healing. However, you should check with your doctor first before attempting this.
Nutrition
Eating right, as mentioned before, is crucial. And this includes after the surgery. Your body needs all the help it can get when recovering, so eating well and getting any added nutrients like a multivitamin could go a long way.
Additional Options for Tummy Tuck Scar
If the tools above aren't enough for your scar, or it's already several months after you've had a tummy tuck, you may need a procedure such as a laser treatment. These can help your scar be minimized, but they are also an additional expense. Always speak with a doctor to discuss how these procedures would work for your scar and if they would be worth it.
No one heals the same way, so your scar will differ from someone who even went to the same doctor. A lot of it has to do with your own body's ability to heal.
Tummy Tuck Scar Revision Surgery
Depending on the type of scar you end up with, you might consider scar revision surgery. This will surgically remove your old scar and reclose the area to promote a new healing process. If you are interested in pursuing this option, it is recommended you wait at least a year after your tummy tuck procedure to ensure your body has fully healed from the previous surgery to help aid in the best possible scar after revision.
Laser Skin Resurfacing
These treatments can help your scar be less noticeable by taking care of thick or raised scars and promoting new collagen in the area. This technique is used on scars of all kinds and may help reduce a tummy tuck scar.
Steroid Injections for Tummy Tuck Scar
Depending on your doctor, this may be an option soon after your procedure. Steroid injections can help with significantly raised and thick scars and are sometimes administered a few weeks to a few months after surgery. If it is done earlier, it is likely to help with inflammation. In patients who are known to form hypertrophic or keloid scars, steroids can be injected at the time of scar revision.
Taking Care of A Tummy Tuck Scar
A scar is inevitable with a tummy tuck, but that doesn't mean you can't take easy steps to minimize it and help your body heal. Getting a tummy tuck is an invasive procedure that requires a lot of healing time. Take all your doctor's words to heart and give yourself time to rest and recuperate. Allowing your body the time and resources, like proper nutrients, will work wonders with your healing.
Though sometimes all the proper aftercare in the world isn't enough. Or perhaps you had a tummy tuck a while ago and weren't aware of how to prevent scarring at the time. Knowing what steps are available can help you determine what is suitable for your body. While there is nothing wrong with a tummy tuck scar, it is perfectly understandable why some people would want to prevent or hide them.
If you're considering plastic surgery and want to learn all the ins and outs, you should talk to a surgeon. Schedule a consultation today with an Ivy League educated, board-certified surgeon. Dr. Rogers and his team can answer all your in-depth questions and more.