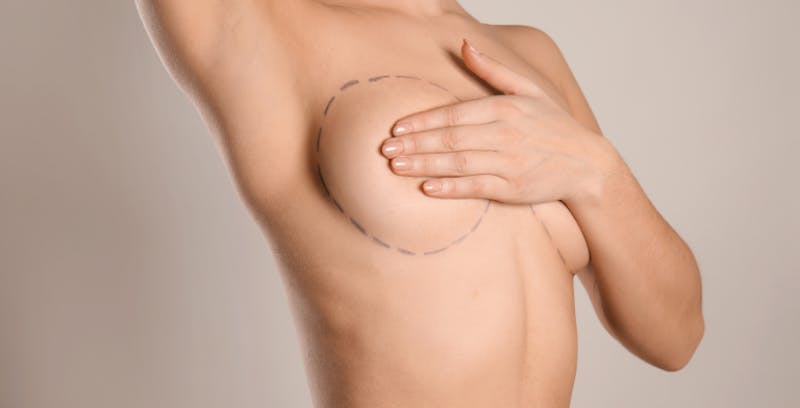 One of the biggest concerns going into a breast lift is scarring. The most common type of breast lift is called an anchor lift. Your surgeon closes the incisions leaving a horizontal scar along each breast crease and a second scar connecting the crease to the areola. While this does correct significant sagging, it does result in the longest scars.
Other breast lift techniques exist that can leave you with shorter scars. Depending on your needs, one type of lift may be more appropriate than another. In patients with mild to moderate sagging, scars can be avoided altogether with a non-invasive breast lift. In addition, there are a number of things you can do before and after your breast lift to promote healing and reduce the likelihood of substantial scarring.
Incision Techniques To Minimize Scarring
Crescent Lift
With a crescent lift, your surgeon only makes a small incision halfway across the top edge of the areola. The scar left behind is far less substantial than the scarring you would experience during a traditional breast lift.
A crescent lift is usually performed in conjunction with breast augmentation. The lift decreases sagging while the augmentation improves breast size. If you are getting implants or undergoing fat grafting in addition to a breast lift, talk to your surgeon about the possibility of a crescent lift.
Benelli/Circumareolar Lifts
Sometimes called "the donut lift," a Benelli/circumareolar lift limits scars to around the edge of the areola. This means there is no scar down the front or underneath the breast. It works best for patients without significant skin laxity issues.
During a Benelli lift, your surgeon removes a ring of skin from around the areola before closing the incision with sutures. The nipple stays completely attached as the breast is lifted, reducing the likelihood of loss of nipple sensation. In some cases, internal mesh may be inserted to support the gland and breast envelope.
A Benelli/circumareolar lift can also be combined with fat grafting or breast implants if you want to restore missing volume.
Vertical Mastopexy
If you have significant sagging, but are concerned about scarring, talk to your surgeon about a vertical mastopexy. Your surgeon only removes a vertical portion of skin leaving a straight scar from the areola to the inframammory fold. This technique is good for specific types of breast ptosis, but may not be a good choice for all patients.
You will still have fairly substantial scarring with a vertical mastopexy, but some women find these scars are less severe than they would be with an anchor lift and are also easier to hide. This can be a good option if you want to correct significant sagging without substantial scarring.
Renuvion
Renuvion (also known as J Plasma) is a non-surgical skin tightening procedure that can sometimes be used instead of a traditional surgical breast lift. During Renuvion, your surgeon makes a very small incision near the breasts and then inserts a handheld device beneath the skin's surface. The device releases helium gas and radiofrequency (RF) energy — the combination of which creates plasma energy and contracts tissues beneath the skin's surface. As a result, you'll be left with firmer, lifted breasts.
As the incision needed to create the Renuvion entry point is so small, a Renuvion breast lift results in zero scarring and also comes with very minimal recovery time. Most patients need only a week of rest, after which they can resume regular activities.
However, Renuvion is not right for every patient. If you have more extreme skin elasticity issues, you may not be a good candidate for Renuvion. Most patients also lose some breast volume with this technique unless compensated for with an implant or fat grafting at the same time.
Minimizing Scarring During Recovery
While scarring is inevitable with the majority of techniques, you do have some control over how substantial your scarring becomes. After your breast lift, follow all aftercare instructions closely to help your body heal properly.
Be very gentle with your incisions and stitches post-surgery. Wear your support garment as long as is recommended, sleep propped up, and avoid heavy lifting and strenuous exercise for at least six weeks. While you may feel better sooner than the allotted recovery time, pushing yourself prematurely can damage your incisions, potentially exasperating scarring.
Anything that can put strain on your incisions can make scarring worse. Make sure to clean your incisions daily according to instructions and follow any other guidance you received from your surgeon. You should not shower for 24 hours after surgery and you should not soak in water until your incisions are fully healed, which usually takes a minimum of two weeks. Limiting sun exposure for at least a year may also reduce your risk of substantial scarring.
There are numerous scar treatments that can help improve the appearance and formation of scar tissue. These range from topical gels and tapes to injectable medications as well as energy therapies directly to the scar. Speak to your surgeon to determine which is best for you.
Minimizing Breast Lift Scars: The Bottom Line
Alternative surgical techniques can substantially minimize your risk of scarring, so have a conversation with your surgeon about your concerns before undergoing a breast lift. You may qualify for less traditional incision techniques or be a good candidate for Renuvion. Following aftercare instructions closely can also help your body heal properly, helping your scars fade more over time. Discuss post-surgical scar therapies with your surgeon for the best possible scars.
Ready to get started? Leif Rogers, MD is an Ivy League-educated, board-certified plastic surgeon and a standing member of the American Society of Plastic Surgeons. If you're considering a breast lift, get in touch with his team to schedule a consultation.