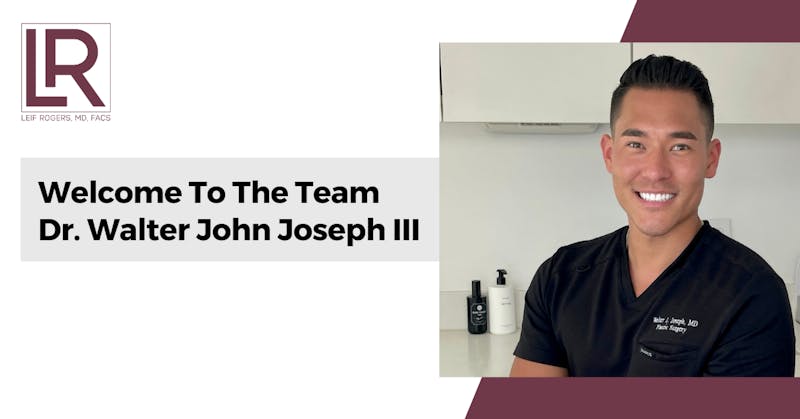 We are pleased to welcome Dr. Walter John Joseph III, MD to our practice here at the Leif Rogers, MD medical group. A graduate of the Rutgers School of Medicine where he was inducted into the prestigious Alpha Omega Alpha medical society. He then attended the #1 Doximity-rated plastic surgery residency program in the country at the Pittsburgh Medical Center, before recently finishing up a plastic surgery fellowship with USC-MarinaRox and is now excited to be joining Dr. Rogers' practice.
During his time in plastic surgery, he has performed innumerable cases ranging from reconstructive to cosmetic surgery including some of the most complicated procedures being performed today. Dr. Joseph believes plastic surgery is a blending of the scientific and artistic, which suits him perfectly. As a detail-oriented perfectionist with an eye for aesthetics and impressive medical credentials, he's the type of person you can trust to help achieve your desired results. This trait is particularly noticeable when Dr. Joseph performs revision cosmetic surgery. Correcting the mistakes of previous plastic surgeons is a notoriously difficult task but one that he excels at.
Getting plastic surgery is a big decision for many reasons and Dr. Joseph knows this. That's why he's committed to creating a personalized experience for every patient. Together doctor and patient will come up with a precise surgical and recovery plan that will give them the results they want in a way that makes the patient most comfortable with the procedure itself as well as any downtime required after.
Dr. Joseph is a big advocate for nutrition, exercise, and other forms of personal wellness. He tries his best to counsel patients before surgery on the impact these things can have on desired outcomes. While he spent most of his time growing up on the east coast, he frequently visited family out west and is happy to be making his home here in Los Angeles.
If you have any questions about Dr. Joseph or about getting cosmetic surgery from the Leif Rodgers, MD medical group, click here to reach out and one of our experts will respond as soon as possible. We look forward to helping you achieve your aesthetic surgery goals.