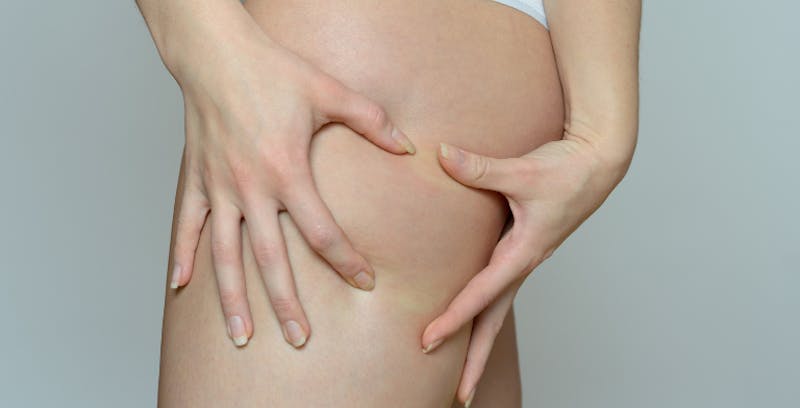 While you have probably heard the term "scarless tummy tuck" – which we have talked about before – you may be less familiar with a "scarless thigh lift." The procedures both refer to the same skin tightening treatment, Renuvion, and scarless thigh lifts have been getting a lot of buzz lately.
In recent years, there have been many advances to skin tightening treatments. Less invasive options are now more widely available than ever. Renuvion – used in a scarless thigh lift – uses plasma energy to contract the skin, creating a smoother and more toned appearance. Patients seeking to tighten loose, saggy skin on the thighs may qualify for Renuvion treatment rather than a traditional thigh lift.
Under the right circumstances, Renuvion is incredibly effective, but it is not suitable for every patient. Some individuals require more invasive treatments to see results.
Below, we will go over the basics of a scarless thigh lift to help you determine whether it's the right choice for you.
Who Is A Good Candidate For A Scarless Thigh Lift?
Before a scarless thigh lift, you will have a consultation with a qualified plastic surgeon. Renuvion treatment is designed for anyone seeking noninvasive means to address loose skin, which factors like age and weight loss can cause. During your consultation, your surgeon will go over your goals, medical history, and current lifestyle to ensure the procedure will be safe and effective for you.
Those in good health with minor elasticity issues can typically safely undergo a thigh lift.
What Happens During A Scarless Thigh Lift?
First, your surgeon creates a small incision – usually less than a centimeter – on your skin and then inject tumescent solution to numb the area, followed by the insertion of a small Renuvion hand-piece. This device releases helium gas and radiofrequency energy, which combine to create plasma energy. Plasma energy simultaneously heats and cools the underlying tissue. As a result, collagen contracts.
Over time, skin elasticity and laxity start to improve dramatically. You will see mild changes immediately, and your skin will continue to improve for six to nine months.
Another benefit of Renuvion is that the procedure is short, pain-free, and comes with minimal recovery. Renuvion treatment usually takes around 15 to 30 minutes to complete per area. (Times vary depending on the size of the treatment area – it may be shorter or longer.) Some patients experience mild discomfort, but the procedure itself is not painful. You can talk to your surgeon about pain management if you are concerned.
With most skin tightening treatments, you need several sessions to see results. With Renuvion, most patients only need a single treatment.
How Long Is Recovery?
Recovery from Renuvion is very mild, especially compared to a traditional thigh lift. You will experience mild pain and swelling for the first weeks after treatment and need to wear a compression garment for four to six weeks.
While you can resume most normal activities within a few days, always talk to your surgeon about your aftercare instructions and recovery timeline. Depending on how your body responds to treatment, they may have specific instructions for you.
Full recovery from a scarless thigh lift takes three months or less on average.
How Long Do Results Last?
Results vary from individual to individual. On average, patients maintain results for three to five years. Natural aging will eventually cause sagging skin, at which point you will need follow-up treatments.
Maintaining a healthy weight can also help results last longer. If you gain weight, this will stretch out the skin and impact your scarless thigh lift results.
Are There Limitations To A Scarless Thigh Lift?
Good candidates for a scarless thigh lift have minor skin laxity issues. For substantial skin sagging, your surgeon may recommend a traditional thigh lift. Patients who've undergone extreme weight loss are typically not good candidates for it.
A thigh lift does not treat fat around the thighs. If you have unwanted fat deposits in the thighs, undergoing liposuction followed by Renuvion may be the best way to get your desired results.
Scarless Thigh Lift: The Bottom Line
A scarless thigh lift is a minimally-invasive way to smooth and tone the thighs. If you have minor skin laxity issues, your surgeon may recommend Renuvion over a traditional thigh lift. The procedure can help you reach your aesthetic goals and feel better about your body.
Ready to get started? Leif Rogers, MD, is an Ivy League-educated, board-certified plastic surgeon and a standing member of the American Society of Plastic Surgeons. If you're considering a scarless thigh lift, get in touch with his team to schedule a consultation.