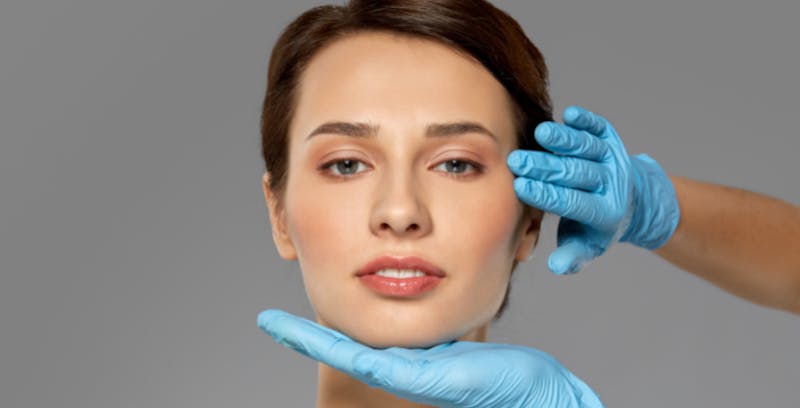 What Is Facial Feminization Surgery & How Does It Help Trans Women
Many surgeries are important to the journey of transitioning from male to female. One such surgery is facial feminization surgery (FFS). FFS is actually a combination of surgeries designed to change the features of the face to have a more feminine look and help complete the transition for trans women. These facial surgeries are important for gender confirmation and are typically considered a high priority.
Facial feminization surgery can result in life-changing improvements other than just the physical appearance, such as self-image and self-confidence. These transformative procedures require the patient to be well-informed to make the best decision for their needs and desired outcome. Below, we'll discuss what female feminization surgery is, the different surgeries included, and how it can help trans women.
What is Facial Feminization Surgery?
Facial feminization surgery includes a series of plastic and craniofacial surgeries meant to feminize the face and achieve a desired appearance. Facial feminization procedures will mainly focus on the hairline, forehead, jaw, nose, and chin, but can address any concerns to help the patient achieve their desired look. The number and type of surgeries required for facial feminization will be case dependent. FFS procedures can reshape the facial bones, change cartilage and soft tissue to provide a softer, more feminine appearance.
Facial feminization surgery is different for everyone and the type of procedures you might go under will depend on the desired outcome. If you're interested in undergoing facial feminization, you and your plastic surgeon will discuss your areas of concern and desired look and create a plan that includes all the needed procedures. Below are common procedures included in facial feminization surgery.
Forehead Reshaping (Frontal Bone Remodeling)
The forehead makes up approximately one third of the face and is an important area of concern for facial feminization. Males tend to have frontal bossing, which is a pronounced bone above the eyebrow ridge, which is a result of a more prominent brow bone. In forehead reshaping surgery, an incision is made within the hairline and the brow bone is shaved to soften and reshape the forehead, giving it a smoother appearance. In forehead reshaping, a bone paste can be applied to the forehead to round and soften the area.
This procedure can also be performed in conjunction with hairline lowering, resulting in a more feminine appearance. While this procedure may vary by patient, most frequently, an incision is made at the hairline. The scalp is dissected back until the hair and skin can be advanced and properly advanced forward. The males' widow peaks can also be minimized with resection of the region or hair follicle transplant.
The changes this procedure creates to the forehead area can have a significant effect on the patient's overall gender appearance. The male hairline also has a different shape than the female hairline; this can be addressed at the same time.
Brow Lift (Browplasty)
This surgery may not be needed for all trans women undergoing facial feminization; however, this procedure can be beneficial for those who want a more open-eye look and have lower or heavy brows. A more arched eyebrow is perceived as a more feminine look. This procedure may be especially helpful for older patients experiencing a loss of volume in the eyebrow area or droopy eyebrows from natural aging. Surgically the brows are approached through an incision above the hairline and extra skin is pulled and removed. This procedure can also be done with the hairline lowering and forehead shaping.
A surgical brow lift also will minimize the future need for Botox as it may sever the corrugator muscle.
Rhinoplasty (Nose Reshaping)
A rhinoplasty for facial feminization involves reducing the size of the nose and reshaping the nose to create a softer, more feminine look. This can involve reducing the width and/or height of the nose by reshaping the bridge, debulking the tip, and reducing the nasal cartilage.
Rhinoplasty for facial feminization helps bring symmetry and harmony to the face. And it's important that the nose balances the other newly feminized facial features. A surgeon can perform a rhinoplasty during other facial feminization procedures.
Cheek Augmentation
The cheeks are a significant part of a feminine face. Women tend to have higher cheekbones and more fat in their cheeks. For patients who feel like their cheek area looks too masculine, cheek augmentation can give a rounder, softer appearance to the cheek area, making it look more feminine.
More feminine-looking cheeks can be achieved through silicone cheek implants or fat injections. Some patients may want higher cheekbones, while others may want a more full, rounded look to the cheeks. Using implants or fat injections will be determined at the consultation and based on the patient's current cheek area and desired look.
Lip Lift & Augmentation
A woman's upper lip tends to be fuller and closer to her nose than a man's, a shorter upper lip is perceived as more feminine. Augmenting and lifting the lips can be achieved through a variety of methods. An upper lip lift will shorten the area between the lip and the nose, feminizing the area.
Feminizing the lips can also be achieved by using dermal fillers or fat injections to give a fuller, more plump look and a more feminine shape. A corner-of-the-mouth lift may also improve the natural sweep of the lips.
Chin Reduction (Genioplasty)
Men tend to have larger, square chins or chins that protrude outward, and with more vertical height than female chins. A surgeon can reduce the size and change the shape of the chin to give it a more pointed or oval shape and an overall more feminine look.
Chin implants are not typically used for this facial feminization procedure since the surgeon usually takes away from the chin instead of adding to it. Reshaping and reducing the size and appearance of the chin can bring a natural balance to the other new feminine facial features to help achieve the look of an overall more feminine face.
Jaw Contouring
Men also tend to have wider, stronger-looking jaws. Jaw contouring involves shaving away bone to reduce the size and soften the shape of the jaw. The surgeon can make the back corners of the jaw area softer and rounder to achieve a feminine-looking jawline. The masseter muscles can also be reduced for patients that have large chewing muscles contributing to a square or wide jaw.
This procedure works to narrow the overall width and shape of the face and improve the overall proportions of the face to achieve a feminine result and harmony to the face.
Tracheal Shave (Adam's Apple Removal)
Men tend to have larger Adam's apples, which is when the cartilage of the trachea protrudes at the front of the throat. A tracheal shave procedure involves reducing or shaving the thyroid cartilage to decrease the size of the Adam's apple. This procedure makes the neck and throat area look more feminine and helps fulfill the goals of facial feminization and gender confirmation.
Why Facial Feminization Surgery is Important for Trans Women
Facial feminization surgery can help trans women look the way they feel inside, as well as help society perceive them in the way that they would prefer. FFS can help trans women be more consistently identified as women and, as a result, become more relaxed and confident in relating to others.
Facial feminization procedures can also help bring patients more self-confidence and joy in their appearance. These procedures can also create a significant improvement in trans women's personal and professional lives.
Next Steps
Facial feminization surgery is an important step in the transitioning process for many trans women. If you're looking to take this next step, it's crucial to go with a licensed, board-certified plastic surgeon who's experienced in gender confirmation surgery.
The next step would be to schedule a consultation with a surgeon to discuss your goals with facial feminization surgery, your desired outcome, and which procedures will be performed.
Ready to get started? Leif Rogers, MD, is an Ivy League-educated, board-certified plastic surgeon and a standing member of the American Society of Plastic Surgeons. To schedule a consultation, get in touch with our team today.