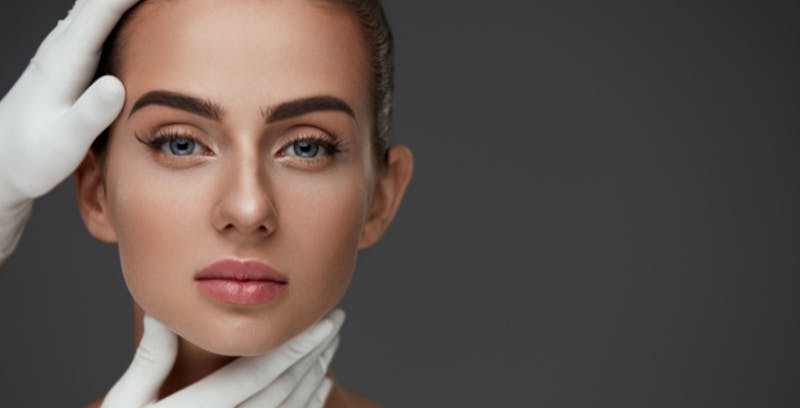 Facial implants are solid, pre-shaped synthetic materials that are inserted via surgery to reshape the face. From jaw implants to cheek implants to chin implants, there is a wide variety of facial implants to choose from depending on your specific goals.
Patients seek facial implants for a variety of reasons. Illness and accidents can change the appearance of the face, necessitating reconstruction, while some patients may simply want a stronger jawline or more prominent cheeks. Regardless of the reasons, getting facial implants is a major decision as it entails surgery, downtime, and possible complications. If you are considering facial implants, take time to weigh the pros and cons carefully to ensure the procedure is right for you.
Who Is A Good Candidate For Facial Implants?
Anyone who wants to alter the appearance of their face is hypothetically a good candidate for facial implants. However, you will need a consultation and medical evaluation first to ensure that facial implants can meet your goals and that you are healthy enough to undergo surgery safely.
During your consultation, you will discuss what changes you want to make to your facial structure and your surgeon will make recommendations from there. You will also review your current medications (including herbal supplements), alcohol, tobacco, and drug use, your medical history, and past surgeries you have undergone.
Prior to surgery, you will need to undergo a medical evaluation which usually entails a full physical and routine blood work. The majority of healthy adults can safely undergo facial implant surgery without a high risk for complications.
What Happens When I Get Facial Implants?
The procedure varies depending on whether you are getting cheek, chin, or jaw implants, and can be performed under either local, intravenous sedation, or general anesthesia, depending on the procedure. You will need someone to take you home after undergoing surgery.
Cheek Implants
Cheek implants are most often placed through incisions in the mouth. The specific parts of the cheek being augmented will determine where incisions are made. Most often, cheek implants are inserted through incisions inside the mouth, but some patients get cheek implants in conjunction with other treatments, in which case implants may be inserted via an incision along the lower eyelid or within the hairline.
Chin Implants
In the majority of cases, chin implants are inserted via an incision under the chin. Sometimes, your surgeon may opt for an incision inside the mouth, however, the risk of complications from the approach is higher.
Jaw Implants
Jaw implants are typically placed through the mouth through an incision made where your cheek and gums meet.
With all types of implants placed through intra-oral incision, after insertion, the incision is closed with dissolving sutures.
How Long Is Recovery?
In comparison to other procedures, recovery from facial implants is relatively short, although you should still closely follow all aftercare instructions.
Bandages and dressings will be applied to keep the surgical site clean and support the position of the implant during your initial recovery period. Such dressings may be in place for up to one week.
Your surgeon or practitioner may recommend topical or oral medication for pain and swelling. Take all medication as instructed.
You will receive additional aftercare instructions based on your personal needs. Many patients need a liquid or soft food diet for a set period following surgery, as chewing may be difficult.
In the majority of cases, you can resume regular activities within 10 days. However, you should talk to your doctor about your specific timeline. Swelling may persist for up to three months, at which point you can see your full results.
Are There Risks Associated With Facial Implants?
Every surgery has inherent risks. There are risks associated with the surgery itself, like a poor reaction to anesthesia, bleeding, bruising, blood clots, and infection.
Facial implants themselves can potentially cause a variety of complications including changes in sensation, numbness, unfavorable scarring, facial asymmetry, shifting of the implant, or poor wound healing. Most of these complications can be addressed with prompt medical intervention and, in rare cases, follow-up surgery.
The best way to avoid complications is to follow all pre-and post-surgery instructions closely.
Facial Implants: The Bottom Line
Facial implant surgery is a major decision, but it does come with a quicker recovery time than most cosmetic procedures. Facial implants can dramatically alter the structure of your face, helping to improve your self-esteem and self-image. If you decide to undergo facial implant surgery, working with a reputable provider is the best way to ensure a positive experience.
Ready to get started? Leif Rogers, MD is an Ivy League-educated, board-certified plastic surgeon and a standing member of the American Society of Plastic Surgeons. If you're considering breast augmentation, get in touch with his team to schedule a consultation.