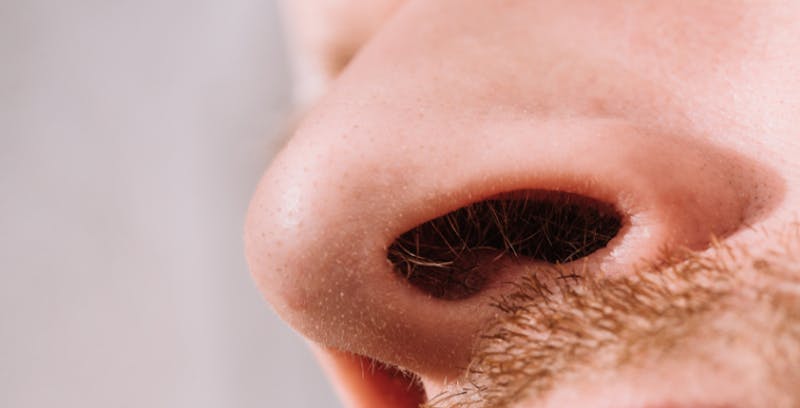 If you're a man unhappy with your nose structure and want to correct specific features or just want to enhance your facial profile, then a male rhinoplasty might be the right procedure for you. Rhinoplasty — often called a "nose job" or "nose surgery" — alters the appearance of your nose by reshaping nasal bone and cartilage and is among one of the most common male plastic surgery procedures.
One of the main concerns men have when considering rhinoplasty is that the outcome of their surgery will be a more feminine-looking nose. Male rhinoplasties are slightly different than female rhinoplasties. While the surgical techniques of a male rhinoplasty are the same as a female rhinoplasty, a reputable and skilled surgeon should understand the cosmetic differences and goals for male rhinoplasty.
With a male rhinoplasty, you want to improve the appearance or fix medical issues while still maintaining natural masculine nose features. Standard differentiating features of a typical male nose include:
A straighter and broader nose bridge
A larger and wider nasal tip with a neutral position
A more substantial or more prominent nose profile
Your surgeon will discuss your desired changes and the features you want to preserve during your consultation while keeping masculine nose features in mind.
There are many different varieties of rhinoplasties, so when choosing the right path for you, your specific purpose for getting a rhinoplasty, concerns, and desired results will all be taken into account by your surgeon to determine the right treatment path for you.
A patient may seek to achieve minor changes or choose rhinoplasty for purely cosmetic reasons. Another patient may want to make more substantial changes or get a rhinoplasty to address a medical issue. These details will be discussed with your surgeon before deciding on the proper surgical plan for you.
Below we will go over the essential information of a male rhinoplasty so you can decide whether this procedure is right for you.
Who Is a Good Candidate For A Male Rhinoplasty?
Male rhinoplasty surgery is for patients unhappy with their nose's size, shape, appearance, or function. However, a consultation with your surgeon will ensure that you're a healthy candidate for rhinoplasty and that the procedure can meet your goals.
Common reasons for rhinoplasty that may make it the right procedure for you include:
Reducing or increasing the size of the nose
Correcting a bump or crooked nose
Adjusting the size or appearance of the tip or bridge of the nose
Fixing a deviated septum
Narrowing the span of the nostrils
Changing the angle between the nose and upper lip
Improving function or correcting medical issues
Before deciding which procedure treatment is the best fit for you, you'll undergo a consultation with your surgeon to discuss your goals and expectations, as well as a medical evaluation to qualify you as a healthy candidate to undergo a rhinoplasty procedure. Generally, patients who are good candidates for a rhinoplasty procedure meet the following requirements:
In good health with no serious medical illnesses or injuries
Don't smoke or have proven that they can stop smoking for a prolonged period of time
Have realistic expectations and goals for the surgery
Are able to meet the preparation requirements before the procedure
Are at an age where facial growth is complete
Are willing to meet the post-op recovery and care requirements
Your surgeon will discuss all the requirements, expectations, and details of the procedure to determine if you're a good candidate and if rhinoplasty is the proper procedure to achieve your desired outcome in your initial consultation.
What Are The Types of Male Rhinoplasty Procedures?
There are several different rhinoplasty procedures depending on your desired look and outcome. Your surgeon will determine which type of rhinoplasty procedure is most appropriate for you during your consultation.
Open Rhinoplasty
Open rhinoplasty is best for patients seeking drastic results. The surgeon will make several incisions around the nose during an open rhinoplasty procedure to completely reshape the nasal structure. This type of procedure allows the surgeon to have full access to the anatomy of the nose and make precise adjustments to the structure of the nose.
Closed Rhinoplasty
Closed rhinoplasty is a good choice for patients seeking to make minor adjustments to their noses. This method is typically used when the patient desires to just reshape the tip of the nose, shorten the nose, or get rid of a dump.
During a closed rhinoplasty, the surgeon makes minimal incisions from within the nostrils. This method minimizes swelling and the appearance of scarring. However, closed rhinoplasty may not be suitable if you are looking to make major structural or appearance changes, or are correcting a medical issue.
Reduction Rhinoplasty
The goal of a reduction rhinoplasty is to reduce the overall shape of the nose. This procedure is often used to fix a hump at the bridge, shorten the length of the nose, alter the nose tip, or reduce the width of the nostrils. Depending on your needs, a reduction rhinoplasty can be opened or closed.
Non-Surgical Rhinoplasty
For those who want to make minor changes to the appearance of their nose, non-surgical rhinoplasty may be a possible option. Non-surgical rhinoplasty is non-invasive and involves using dermal fillers to reshape the nose and achieve a patient's desired appearance. This procedure can take less than an hour and requires only topical numbing.
The recovery experience involves mild swelling and bruising that lasts up to a couple of days, and most patients can return to their everyday life the same day. The results from a nonsurgical rhinoplasty aren't permanent like results from surgery. Dermal fillers injected in the nose can last 12 to 18 months. Over time the body breaks down the fillers and the results will slowly start to go away.
What Happens During A Male Rhinoplasty Procedure?
Your rhinoplasty may be performed under local or general anesthesia. It can take from one to four hours to complete depending on the extensiveness of the changes you're making and the type of rhinoplasty procedure. You may be required to rest in bed with your head raised higher than your chest for a period of time before being discharged, and you will need to have someone take you home after your procedure. Your surgeon will walk you through a specific plan of what to expect for your procedure.
What Is The Recovery Process Like?
The recovery from your rhinoplasty varies, just like the type of rhinoplasty procedures vary. Your surgeon will give you a detailed recovery regimen specific to your case, including caring for the surgical site and medications. You'll want to make sure to carefully follow your recovery plan instructions to avoid any post-surgery complications.
You made need splints placed inside your nose right after your procedure, and you may also have tape and splints placed outside your nose as well to help stabilize the bones and cartilage during the healing process.
Any splints or internal dressing you may have are typically removed within the first seven days. You will also have stitches inside your nose which typically dissolve on there own. Any stitches you may have on the outside of your nose will need to be removed usually five to seven days after your surgery.
You will want to avoid any strenuous physical activity for the first few weeks. Your surgeon may also advise you to:
Refrain from blowing your nose
Avoid wearing glasses or sunglasses
Take baths instead of showers to keep the surgical site dry
Be gentle while brushing your teeth, making facial expressions, and touching your face
You'll experience swelling for a few weeks after surgery, but the majority of the swelling should go down after one to two months. It may take up to a full year to completely heal and see the final results of your procedure.
Are There Risks Associated With Male Rhinoplasty?
Every surgery comes with its risks. Rhinoplasty patients may experience scarring or poor wound healing, numbness around the treated area, difficulty breathing, nose bleeds, infection, and in rare cases, a hole forming in the septum. The rate of complications is low, and the best way to avoid complications is to work with a reputable surgeon and follow pre and post-op instructions carefully.
Male Rhinoplasty: The Bottom Line
A rhinoplasty procedure is an excellent option for men looking to drastically change or make minor enhancements to their nose or improve functionality. Like any procedure, getting a rhinoplasty procedure is a big decision, and you want to make sure you work with a reputable surgeon who is skilled in male nose features and can provide you with your desired outcome. The best way to find the surgeon and procedure best fit for you is to book a consultation.
Ready to take the next step? Leif Rogers, MD, is an Ivy-League educated, board-certified plastic surgeon and standing member of the American Society of Plastic Surgeons. If you're considering a male rhinoplasty, get in touch with his team to schedule a consultation today.